May 15th, 2020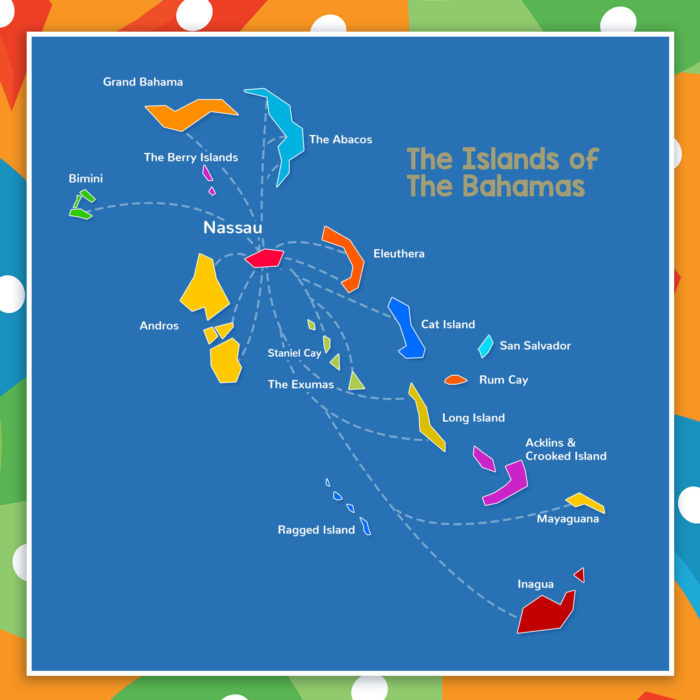 Bahamian Airlines are between a rock and a hard place due to Covid-19.
First and foremost to everyone reading this, I hope that you and yours are safe and well during these unprecedented times due to this pandemic. This is a terrible situation for all of us but it is my hope that everyone will remain healthy through all that is going on.
So the $200 Million question is "How Covid-19 will affect the domestic aviation industry in The Bahamas?" I hope to at least partially answer this question by highlighting many of the challenges that we in the domestic airline industry will have to face going forward. I will also attempt to provide some ideas on how the industry can survive this pandemic.
Introduction
In The Bahamas and around the world the Covid-19 pandemic has affected everyone. Many businesses are partially operating, some temporarily closed and some, unfortunately, closed forever. Unemployment is reported to be north of 30% and climbing [link], the highest it's ever been in the modern-day Bahamas. We are now in Phase 1b in the five (technically six) phase of the government's plan to reopen the economy. More businesses are allowed to open but the 24hr Monday-Friday curfews and full weekend lockdowns are still in effect.
Tourism (our largest industry) has come to a screeching halt. We're heading into the second week of May and there have only been guesstimates on when Tourists will return to our shores either by cruise ships or by airplanes. The airline, like the cruise industry, took early and severe hits by Covid-19. By April 5th, 2020, the International Airport and airports throughout the Bahamas were ordered closed. Only cargo and relief flights have been allowed. Some commercial international flights have been allowed to fly in without passengers to pick up outgoing passengers (mostly foreign nationals). There are also the occasional exempted flights that are approved by the Director of Civil Aviation.
Domestic commercial passenger flights have been prohibited and under no circumstances can people leave one island to visit the next. As a matter of fact, this is now a crime. The $200 million dollar question for our domestic aviation industry is, "What will happen to our industry?". If what is happening in aviation around the world is any indication of what will happen in our local domestic aviation industry we have a bleak path ahead of us. If it's one thing that is certain, it's that aviation will be drastically different post-COVID-19.
Domestic Aviation Background
As of writing, there are seven established scheduled domestic airlines: Bahamas Air, Flamingo Air, Leair Charter, Pineapple Air, Sky Bahamas, Southern Air, Western Air. They offer flights to 17+ airports throughout the length and breadth of our beautiful country. These carriers range from 9 seater piston (Flamingo Air) aircraft to 50 seater jets (Western Air) to 70 seater turboprop aircraft(Bahamas Air).
The domestic aviation industry plays a vital role in connecting our islands. Residents and tourists alike rely heavily on domestic air travel. Without air travel within the islands, it would take 7 hours via the mailboat to get from Mangrove Cay, Andros to Nassau v.s 12-15 minutes on a plane or even more drastic; it would take 18 hours from Inagua to Nassau by boat vs. an hour and fifteen minutes by plane.
By rough estimates, the local airlines transport around 2000-3000 passengers a day domestically. This, at minimum, generates around $200 million in direct and indirect economic activity. The industry is sizable, with over 1200 staff employees with Bahamas Air alone employing more than 600 [link].
COVID-19 Effects on the International Aviation Industry
While we're not able to say for sure how the pandemic will affect domestic airlines until the industry starts operating again, we can look around the world and see what is happening to other airlines. Airlines are downsizing, cutting costs, lobbying governments for bailouts, and quite a few going out of business [link]. Airports everywhere are ramping up new processes and procedures to adapt to and survive in this new environment.
The airlines and airports that remain operating during these times give a good insight into what we may soon be experiencing locally. Airlines are enforcing safe distancing by removing middle seats in larger aircraft. For smaller aircraft, only one passenger is being allowed per row.
<insert pic of social distancing seating on plane>
This has forced many airlines to fly at less than 60% of their actual load. Regular sanitization using electrostatic sanitizing machines & foggers are commonplace now. Passengers are required to wear masks and in some instances, subjected to temperature checks onboard aircraft.
<insert pic – show pic of passengers where PPE on aircraft>
For airports opened and receiving flights today, they have upped their game as well by deploying a myriad of measures in their fight against Covid-19. Some of the measures include temperature screening, extensive and frequent sanitization of common areas, coating common touchpoints like check-in kiosks and baggage collection areas with specialized solutions, and copious amounts of signage and markings to enforce safe distancing.
<insert pic – of airport operations temperature being checked etc.>
There is no question that all of this is necessary to keep the traveling public safe, but this doesn't come without huge costs. Costs that someone has to pay for, and ultimately it will be us the traveling public. Airlines have started looking into increasing their prices [link] to offset the additional costs of staff, equipment, and most importantly, lower loads. Airports will increase passenger facility fees and introduce new fees to compensate for the increased costs and a decrease in passenger traffic.
So what does this mean for our Domestic Aviation Sector? I believe the same will happen locally, but it will be felt more since our domestic passenger volumes are relatively low when compared to other airports in the USA, Canada, Europe, and Asia where the adjustments have already started.
These are:
Increased Sanitization & Safety efforts,
Decreased passenger loads due to safe distancing,
Decreased passenger loads due to tough economic conditions
Increased costs (safety measures, increased taxes & fees etc.) compounded with no revenue due the nearly 2 month no-fly order and fixed costs.
Financial Pressures associated with all that Covid-19 brings to the industry.
Increased Safety Efforts (Frequent Sanitization and Safe Distancing)
Everyone is germs, bacteria and virus conscious now. A sneeze of cough in a closed space gets everyone's heads turning and giving the offending party the death stare along with the unspoken question of: Do they have Covid-19? People are wearing masks, gloves and using hand sanitizers like it's lotion. It's safe to assume thorough sanitization will have to happen to give the traveling public the confidence to fly again. What does thorough sanitization look like for our domestic industry (airports & airlines)?
For the Airports (Lynden Pindling International & Family Island Airports)
Significant Signage and markings throughout the terminals informing all terminal visitors of the necessary precautions and practices to take and adhere to.
Non-stop sanitization will be the new norm with the airports employing specialized team members (or 3rd party contractors) to ensure airports are surgically cleaned. What does this look like? Everyone entering the airport terminal must wear masks. Hand sanitizing stations everywhere. Barriers may be erected between counter agents and customers (currently being done at local banks) and temperature screening areas. Every point of human interaction and touchpoints will have to be examined meticulously. The list goes on and on; from the check-in lines, the security bins, the escalators, stair railings, elevators, bathroom faucets and stalls, the items on shelvings in the airport stores, and the list.
Strict Safe Physical Distancing. No more sitting next to someone (unless both parties agree). With strict physical distancing in place, fewer people will be allowed in the terminals at any one time. Say goodbye to those packed airport days when there was a regatta in Exuma or Briland. The seating in departure areas will have to be reconfigured to enforce safe distancing. A brand new approach to checking in, clearing security, and boarding to limit human contact need to at the very least be considered. Think check-in kiosks, counter agents.
For the Airlines
Staff will have to be hired and trained on how to interact with colleagues and the general public in healthy and safe ways. This will look a lot like the bank tellers interactions of today. Every passenger with masks on and safe distanced on aircraft will be the order of the day.
Deep sanitizing of aircraft. Aircraft will have to be fogged and deep cleaned before every takeoff to ensure they are as clean and virus free as possible.
Baggage Handling: With Covid-19 being able to live on surfaces for days, the sanitization of the baggage hold before loading and unloading will have to be done regularly (after every flight) as well.
Decreased Passengers loads due to additional safety measures and tough economic conditions.
Airports like other large buildings won't be allowed to hold as many people as before so naturally total people in airports will decrease, which means less people traveling, less people patronizing the various stores in the terminals and so on. In a nutshell revenues for all involved in the domestic airport will take a significant hit for the short to medium term.
In regards to airlines if what is happening worldwide with airlines' flight seating assignments to ensure safe distancing with a maximum load capacity of 60-70% or less, this is bad news for us on the Domestic side. As highlighted earlier the seating capacity on domestic carrier airlines ranges from 9 seats to 70 seats, with 5 out of the 7 of the airlines seating capacity being 33 seats or less.
With a 70% load allowance 9 seater aircraft(Flamingo Air, Leair) can only have 6 passengers, 15 seater aircraft (Flamingo Air) allowed 10 passengers, 19 seater aircraft (Leair, Southern Air and Pineapple Air), 13 passengers allowed. Aircraft with larger numbers flown by Western Air 33 seater and 50 seaters would be allowed 23 and 35 passengers max. Bahamas Air with its largest domestic ATR of 70 seats would be allowed, 49 passengers. These numbers are not conducive to airlines making a profit or in some cases even breaking even at current prices.
The tough economic situation we are experiencing and will continue to experience in the future does not bode well for the domestic flying public. Most travellers complain and compare that flying to one of the Family Islands just 15-30 minutes away costs just as much or more to fly to South Florida. The cost to fly to the islands for a long time hasn't been attractive or compelling for a lot of people.
Increased Costs to Operate and Financial Pressure
To operate in the post Covid-19 world as a domestic airline will be extremely costly. The cost of the necessary safety procedures, equipment and manpower that will have to be employed would be significant.
Airport Perspective
The costs for airlines to operate in airports will no doubt increase so as to offset the cost of implementing additional Covid-19 safety measures. I would not be surprised if the managers (NAD) of Lynden Pindling International Airport (LPIA) introduce a new fee to the traveling public's flight tickets. As painful as this sounds it would be totally necessary to ensure its debt servicing obligations and operating expenses [link] are met and the airport is maintained and operating in tip-top shape.
With increased fees, ticket prices increase, higher ticket prices mean fewer passengers flying. Fewer people flying means less retail activity and other facility revenues for the airport.
Airline Perspective
Airlines are very high fixed costs and capital intensive business. Around the world and locally, many airlines operate at break-even and loss levels. Our beloved national flag carrier, Bahamas Air is one such example of an airline operating at a loss. Our flag carrier, Bahamas Air, is not unique in this regard.
Purchasing industrial foggers or hiring sanitization companies to sanitize aircraft after each flight does not come cheap. Purchasing Personal Protective Equipment (PPE) for staff as well as customers is also a material cost item considering the shortage of PPE has driven prices reasonably high. These additions only increase the cost base of airlines.
The social distancing measures that may be enforced both at the airport and aircraft levels will only make operating in these times going forward that much more difficult. Less seating capacity onboard flights will mean an increase in prices to remain viable. Unfortunately, at much higher prices only the absolute must fly passengers will fly. With fewer passengers flying, flights may cease for some routes as flying an aircraft with a 20-30% load is a major loss. I suspect some people will still want to fly for a change of scenery but most people will be extremely priced sensitive given all that has and is happening.
Domestic airlines haven't been operating since the beginning of April and as of writing this, they are still grounded. All of these airlines still have financial obligations like fixed costs such as office leases, aircraft leases, aircraft maintenance, and hangar fees and insurance, and even payroll costs (albeit reduced; for those airlines who kept on staff). With all these mounting bills and no revenue to pay for us, many airline operators are looking in every nook and cranny and leaving no stones unturned to find the much-needed cash to survive at least until the no-fly order has been lifted.
What are domestic airlines going to do? Will the government bail out the industry, considering it plays a vital role in our number one industry, tourism, and the fact that many Bahamians are employed in the sector? A bailout is highly unlikely and dare, I say improbably at this time. The Bahamas Association of Air Transport Operators via its President, Anthony K Hamilton said in a Tribune interview [link] dated March 25th, 2020 that many operators fear they won't be able to restart business if the Government or other parties don't provide some level of assistance. It is believed that some airlines have already gone bust or on the brink of closing down.
The Government, in the person of our Aviation & Tourism Minister D'Aguilar's response to airlines needing a bailout, was, "The government cannot save everyone." [link] while this may sound harsh this is the reality. Currently, the Government is looking at options to help itself to ensure our Bahamas stays viable. He made some interesting suggestions on what airlines can possibly do to improve their situation. One of the ideas that stood out was for operators to look at pooling their resources and helping each. The interview by the Minister does bring up the topic of the 10,000-pound elephant in the room of Bahamas Air. With decreased demand in travel both domestically and internationally, how does an already loss generating airline (currently "burning" through more $3M a month since Covid-19 [link]) survive?
This brings me to the final section of this article; what does the domestic aviation industry look like after experiencing Covid-19 and how most if not all of us can potentially survive and thrive.
Conclusion – The possible way forward.
I cannot see a world without airlines; there are no means of transportation that is as efficient while being reasonably cost-effective. So it is near impossibility airlines go away. I believe that domestic airlines and the industry will return to service and bounce back (we have to). To what extent is a guesstimate at best and will mainly depend on the Government's timeline and efforts to restart aviation within the country. Other critical stakeholders like NAD, Tourism boards, and other public and private agencies will play a vital role.
For an archipelagic country like The Bahamas, the Domestic airline industry is especially important. Domestic airlines play a vital role in driving a lot of economic activity in The Islands. Transporting time-sensitive cargo to taking specialized labor (think Dentist, Doctors, Engineers) to various islands and taking Tourists(foreign and local) move between our islands are all done by Domestic Airlines. Many of the residents of these islands travel weekly to and from Nassau to conduct business (banking, purchase supplies/inventory, visit doctors) and visit family members.
How airlines emerge after Covid-19, no doubt, will be different. Some airlines will go out of business as we see around the world [link], but others will emerge transformed, more efficient, and maybe, just maybe, more profitable. Our Domestic Airline industry is in a notably better place than many other aviation industries throughout the world to recover at a decent pace after the pandemic. The average flight times between Nassau and most family island airports are around 12-40 minutes, and as a bonus, our largest tourism market (USA) is roughly 35 minutes.
Strategies to Survive
In the medium to long term, I believe a vaccine or an effective therapy will be developed to rid us of COVID-19 or make the effects less than a common cold or flu. Once we have either of these things will go back to "normal," i.e., less stringent physical distancing measures and the likes. When does this happen? Most estimates are 12-18 months in the best-case scenario.

Until we find medical solutions to Covid-19 domestic airlines will have to do what's necessary to survive. Some of the possible strategies can include:
Airlines Partnerships will focus on the pooling of resources as mentioned in Minister D' Aguliar's Tribune article [link]. The pooling would allow airlines to share their resources and costs across themselves. For example:

Sharing office space,
Purchasing fuel and other supplies together in bulk to obtain any bulk discounts
Share staffing. Back office support staff can be consolidated. Ground staff and pilots as well.
IT System costs can also be shared.
Route sharing that would see revenue share between the airlines if one of the partners uses a smaller aircraft to service lower demand and vice versa.

Mergers and acquisitions. There is a real possibility consolidation of the local aviation industry may happen with larger airlines acquiring smaller ones.
Is there a chance I'm wrong about some not so encouraging predictions? Absolutely! As a matter of fact, this would make me happy to be incorrect, as this would mean things won't be as bad, and consequently, our Domestic aviation sector will recover sooner.
About the author: Ken Smith is an Androsian from Mangrove Cay, Andros, and proud father of 2 beautiful daughters. He is an investor and also the Managing Director of Junkanoo Air. All opinions expressed in this article are solely his own and do not reflect the opinions of Junkanoo Air.
---